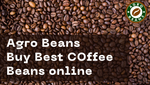 Finding the best coffee beans to buy can be a fun and rewarding experience. Here are some tips to help you find the best coffee beans:
Determine your taste preferences: Before you start your search, it's important to know what type of coffee you like. Do you prefer a dark roast or a light roast? Do you like fruity or nutty flavors? Knowing what you like can help you narrow down your search.

Research coffee roasters: Look for coffee roasters in your area or online. Read reviews, check out their website and social media pages to get an idea of their roasting methods and the types of coffee beans they offer. Agro Beans can be your best option to buy the beans. Check out our collection of Coffee Beans.

Consider the origin of the coffee beans: The origin of the coffee beans can have a significant impact on the flavor. For example, beans from Central America tend to be mild and sweet, while beans from Africa are known for their bold, fruity flavors.

Look for specialty coffee: Specialty coffee refers to high-quality beans that are carefully sourced and roasted to bring out the best flavor. Look for coffee roasters that specialize in this type of coffee.

Consider the roast date: Freshness is key when it comes to coffee beans. Look for beans that have been roasted within the past few weeks, and avoid beans that have been sitting on the shelf for too long.

Try different beans: Don't be afraid to try different types of coffee beans. You may discover a new favorite that you never would have considered before.
By following these tips, you can find the best coffee beans to buy that match your personal taste preferences and provide a satisfying coffee experience.