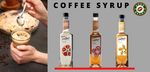 There are many ways to taste the distinguished taste of espresso or famous coffee shops, and one of those ways is thanks to coffee syrups. It is a very versatile way to add this characteristic flavor to hot and cold drinks, and even to desserts.
So why not give them a try? If you are in Australia and you do not know where to find this kind of product, do not worry; below we leave you all the information you need to buy coffee syrup online.
What is coffee syrup?
If you think it is impossible to achieve the same result from the coffee combinations that are in the most famous coffee shops, then you have to read the following. Because no, it is not impossible, you just have to how to choose good coffee syrup to complement the flavor of your espresso.
You can even manage to replicate your favorite Frappuccino, since the syrups go very well with hot and cold drinks. And you do not need to be an expert barista to use them, you simply add a couple of tablespoons of the syrup content to your drink, and voila, you will have your drink just as you wanted it.
It is also a good alternative to sweeten your coffee without adding more sugar, but at the same time giving it a different touch, with other interesting flavors. So, you can find a great variety of brands and flavors; from vanilla, hazelnut, and more with the coffee syrups brands in Australia.
Coffee syrup for desserts and drinks
There are a wide variety of drinks you can make with coffee syrup; from the popular Starbucks drinks to the famous coffee milk. But you can also use it in the kitchen, to give an interesting flavor to your desserts, so we will see how you can use coffee syrup for desserts and more.
1. Biscuits and cupcakes
When you prepare your desserts, you can add a few tablespoons of your favorite coffee syrup, you can choose and; it is up to you. You can also put it in your chocolate ganache, in your cream for cakes, sweet fillings, and even in meringues and toppings for desserts.
2. Cocktails
The coffee liqueurs are pretty delicious, but you can make your homemade cocktails with coffee syrup and save yourself a few bucks. You can incorporate the flavor of your favorite latte, mochaccino, or whatever your favorite coffee is to your favorite alcohol.
And if you are an alcohol-free person, do not stop, you can also buy coffee syrup online for sweet up your cold drinks.
3. Smoothies and ice cream
If you love homemade ice cream recipes then you will love this, because you can also add a few drops of coffee syrup to your ice cream and smoothies recipes. You can even add it as a topping for your ice creams if you don't want such an intense coffee flavor.
4. Breakfasts and energy bars
You can replace maple syrup or maple syrup with your favorite coffee syrup on your morning pancakes, toast, or cookies before you leave home. They are also a great option for making homemade energy bars with your favorite granola.
5. Frappuccino's and coffees
Of course, we could not forget it, and that is because coffee syrups have been designed for this type of drink. With them, you can use coffee syrup for desserts and recreate your favorite Frappuccino Late, or perhaps a decaffeinated Mocha, in short, the drink you want.
Where to buy coffee syrup online
Surely you already have many ideas to start using coffee syrup, but what is the best store to get this kind of product? Well you should know, the most popular coffee syrups in the world are those from Starbucks, and that is why they are sold in many stores.
However, we know that you want a more particular and refined flavor, you do not want the same flavor that everyone gets in their homemade drinks. Also, you sure do not want to go to the store or to a Starbucks to get just a bottle of syrup.
That is why in Australia there is a perfect option to buy coffee syrup online, and it is Agro Beans brand.
Agro Beans products
Our brand provides the best products in terms of infusions; we can provide you with the most valued Premium quality organic coffee beans on the market, to products for tea lovers, and of course, the best coffee syrups brands in Australia.
The highlight of our store is that you don't have to go anywhere; you can order your products from the comfort of your home, and we take care of getting them delivered at no additional cost. And of course, we also have the best line of coffee syrups ever seen in all of Australia. Do you want to know what it is? Then don't stop reading below.
Best coffee syrups brands in Australia
As we already mentioned, the Starbucks brand of syrups is quite competitive worldwide, but it is not the only one of its kind. It is not even the best in its class, because refined palates know that the best coffee syrups brands in Australia include DaVinci's on the top on their list.
Sweet palates will feel at ease with this syrup since they can emulate the most famous drinks in coffee shops with a couple of spoonfuls. In addition, it is a perfect additive for your pancakes at breakfast, or to use in your dessert recipes.
To achieve the classic latte or vanilla flavor in your Frappuccino or any drink, this product is the best option. You will have the essence of vanilla and coffee subtly in your drinks, desserts, or cocktails, always in a balanced way and not at all sugary.
If you want a more powerful and aromatic flavor, this syrup is special for you. You can feel the flavor of almonds in your hot and cold drinks, with the perfect aroma of nuts and coffee beans.
Do you dare to try this type of product? Well, do not think twice, because in Agro Beans we have everything for lovers of infusions.