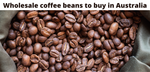 Planning to open a coffee shop? Well, one of the things you have to take into account is to have enough ingredients for production, and that means buying enough coffee beans. Not sure where to start? No problem, we will give you the recommendations to find wholesale coffee beans in Australia.
You will find that buying coffee beans this way is a great way to save money; in addition to keeping a good inventory for your cafeteria. And if you do not have these plans in mind, these tips may also help to consumers to get buying ideas for coffee lovers for their inventories.
Buying ideas for coffee lovers
Buying coffee beans in bulk is a huge advantage in many ways, starting with a huge time and money saver. You just have to purchase a bulk of coffee beans, and you will have supplies for a long time.
If you buy in bulk, you will be able to sell your products and drinks at a lower price, since you will be acquiring your raw material at a wholesale price; therefore, everyone wins. Even if your plans are not exactly to open a coffee shop, if you are just a consumer you may be interested in these buying ideas for coffee lovers.
In this case, you must take into account the storage of your coffee beans; these can usually survive 9 months to 3 years in a good freezer. So, there should be no expiration issues when it comes to coffee, and you can have an inventory for a long time.
Benefits of buying coffee in bulk
Buying high durability products in bulk is always a good deal, and when it comes to food that you usually consume daily it becomes much better. Therefore, buying coffee in bulk will be beneficial to you in many ways, especially if you call yourself a coffee lover or live with many people in your house.
You may think it is a huge waste of money when you do not have a coffee shop, but you are not thinking about the long-term benefits. Forget all of that and just think about the following benefits of doing this kind of shopping:
You will save money since if you opt for the best sales on coffee bulks.
You will also save time buying coffee beans frequently. You will only make one purchase from time to time.
You can choose from a wide variety of coffee beans and blends, not just pick just one type.
Coffee beans in bulk are usually of high quality since they are destined for coffee shops and stores. So you will always have good cups of coffee and quality drinks from the best coffee shop in your city.
You will reduce the environmental impact by reducing the number of packages you buy.
As you will see, there are quite good benefits when it comes to making this kind of purchase, so do not discount these buying ideas for coffee lovers. Even if you do not have a coffee shop, you can take advantage of buying coffee in bulk.
Where to find wholesale coffee beans in Australia?
Have you already convinced yourself that buying wholesale coffee beans in Australia is the best option? Well, regardless of whether you have a coffee shop, or want to stock your coffee inventory, you must know where to do your shopping.
Luckily, in Australia, you are well supported, because you have Agro Beans, a supplier of coffee beans and supplies for 100% infusions. Our store has a variety of Premium quality coffee beans, awarded by international awards, coming from the best soils of Mexico and Colombia.
Best of all, you do not have to go anywhere to stock your store, or your home; you simply place your orders from wherever you want, pay with your preferred payment method, and you will soon have your bags of coffee at the door of your store or home. And forget about paying extra for shipping, because we have free freight for all of Australia.
So if you want your customers to try a good quality coffee, with different blends and flavors; but at the same time save and have a good inventory, then Agro Beans is the best option for you. And if you do not know where to start, do not stop reading, because we will show you the best sales on coffee bulks in our shop.
Agro Beans best sales on coffee bulks
In Agro Beans, you will find the best deals in Australia for coffee packages, and not just one type. You will see that in our store you can buy packages with varied flavors so you have an inventory full of all our best mixes.
In that sense, our packages include our best-decaffeinated beans, mocha mix, cream, traditional, and even our highly requested organic. You can also select lumps of a single type of coffee if you already know the tastes of your guests.
We have the best sales on coffee bulks for coffee shop owners, at the best wholesale price and with an unbeatable quality guarantee. You will realize that our coffee beans have been awarded internationally for a good reason, and that is that they are perfectly harvested and roasted so that they reach the hands of our customers without any error.
All our beans are perfect for espresso machines, to make the most appetizing frappuccinos and shakes, leaving unmatched flavors and smells, which will surely be the topic of conversation for all your customers. So, if you want to bet on quality and good prices, you have to bet on our bundles of coffee beans.
What are you waiting for? Stock your store with the best coffee beans from all over Australia, brought directly from the best Latin American soils, and roasted to perfection. Test what Premium quality is and make it known to your customers; or simply fill your inventory and save with the best deals of wholesale coffee beans in Australia.