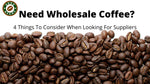 Do you need wholesale coffee?
Finding a Coffee Bean Wholesale partner can be a bit overwhelming because coffee isn't just another deal on the menu or a little thing in the office that people don't pay attention to. It is the great stimulant and comfort of Australians, and doing it wrong tends to kill the mood.
 And we all know what it's like to have a bitter, lifeless cup of coffee when you were really expecting something smooth and rejuvenating.
 Fortunately, avoiding a not-so-good association isn't difficult when you know what you're looking for. So here are four things to consider when trying to find your perfect wholesale coffee bean supplier.
1. How important is taste and freshness?
Coffee has never been more delicious and flavorful than it is today, thanks to advances in the science of roasting and brewing over the past two decades, and it's no longer a secret. Trendy coffees and fresh beans are no longer hard to find, and stale, low-quality beans are becoming a thing of the past.
 We highly recommend selecting freshly roasted coffee.
It is no longer acceptable or normal for offices, restaurants, or churches to serve poor quality bitter coffee. It feels cheap and uninspired, and that's not the message you want to send to your business guests. You want your coffee to calm and refresh them.
2. Relationships: not all providers value them
There is no good substitute for a person who takes the time to listen to her needs. Sure, you can order from a catalogue and get a box of beans next week, but what happens when they stop carrying your favorite mix? Who do you contact when you get a faulty batch of beans, and who backs you up when the invoice is wrong?
In partnerships, things go wrong, but no problem is big when you and your partner work together to fix the issue.
 3. Minimum commitments and orders
An easy way to remove some coffee roasters from your list is to ask them about their minimum monthly orders. If your minimum order is more than what you need, cross it off the list and don't look back.
 Large minimum orders generally mean that those vendors have cut smaller customers to streamline their operations through a smaller list of partners. Even if you could solve something with a lower minimum, you would almost certainly be undervalued compared to your larger clients.
 4. Is sustainability important to my organization?
The trend is clear: Consumers are increasingly gravitating towards sustainably sourced products, including coffee. If you value sustainable and ethical business practices, it is important that this is evident in all areas of your organization.
 Here are some certifications you can look for that indicate sustainability:
 Certified organic product
Fair trade certificate
Of course, these are not the only ways you can determine whether a coffee roaster is doing everything in its power to make a positive impact on the environment and the coffee community. Ask how each supplier goes green in their roasting facility, packages every bag of coffee, and promotes sustainability in other areas.
 Agro Coffee Beans - a coffee wholesale partner you can trust.
At the risk of sounding too commercial, we would like to demonstrate how we can end your search for a coffee wholesale partner.
Fresh Roasted Beans: The bad coffee will be gone. Our small batch roaster is the perfect tool to bring out the rich and balanced flavors of the beans we get from family farms around the world. We ship directly from our roastery to your doorstep, so you never have to serve stale beans again.
A people-first approach: we are not in the coffee business. We are in the people business. Our relational mindset allows us to become your advocate for great coffee, no matter the size of your organization.
Low Minimum Orders: We are not afraid to invest in smaller partners. In fact, we love it! No matter how big or small your organization is, we will work to find an agreement that helps you prosper.
Global-minded practices: The world faces enough problems as it is, and we are committed to making none of them worse by sourcing ethically priced and sustainably grown coffees from small farms around the world. Many of our offerings are fair trade certified to ensure farm workers receive empowering wages abroad.
We would love to hear about your unique coffee needs. Please get in touch with what you're looking for and we'll provide more information on pricing, shipping, and anything else you need.
 You can also check out our wholesale coffee bean offering, which is specially designed for offices and coffee shop owners.